How to Build a Culture of Mental Well-Being
A New Workplace Well-Being Framework
The U.S. Surgeon General recently released a new framework for well-being in the workplace in light of some staggering statistics, including:
76% of U.S. workers in a 2021 survey reported at least one symptom of a mental health condition (anxiety, depression), an increase of 17 percentage points in just two years.
81% of workers reported that they will be looking for workplaces that support mental health in the future.
84% of respondents reported at least one workplace factor that had a negative impact on their mental health.
Work and life aren't mutually exclusive, but rather intertwined in a way that we can't help but acknowledge and celebrate. The weave of work and life doesn't mean we don't set boundaries for checking work e-mails or responding to work issues; it simply means that our jobs are part of who we are, and that we can't separate who we are from our jobs.
The new framework for well-being in the workplace, illustrated in the graphic below, highlights five Essentials for workplace leadership to consider:
Protection from Harm: Components include physical and psychological safety, and the normalization of talking about mental health. It also covers physical well-being such as adequate rest and includes policies and programs tied to Diversity, Equity, Inclusion and Accessibility.
Connection & Community: Components include inclusion and belonging, trust-based relationships, collaboration and teamwork.
Work-life Harmony: Components include autonomy, flexibility, boundaries and access to paid leave time.
Mattering at Work: Components include living wages, involvement in workplace decisions, gratitude and recognition-based cultures and connection to the organizational mission.
Opportunity for Growth: Components include training, education, mentoring, equitable paths for career growth and relevant, reciprocal feedback.
While there are five Essentials listed, the words surrounded by those five concepts are critical too: Worker Voice and Equity.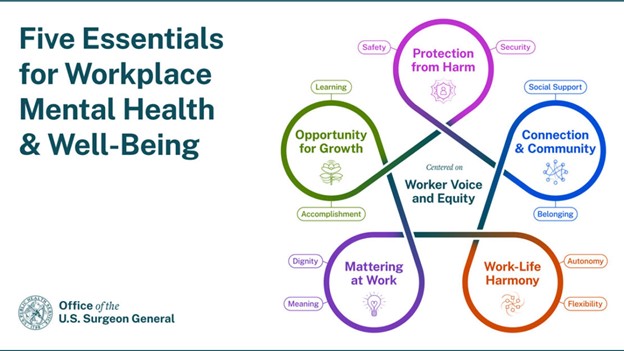 Putting the Well-Being Framework into Action
How can a leadership team respond to this framework? How can business leaders translate the framework from nice-sounding words in a graphic to tangible workplace efforts that succeed in improving employee well-being?
We believe it comes down to The 8, that's our philosophy about people. The following eight beliefs and the tools that align with them are your organization's guidebook for addressing the Essentials of the framework, putting it into action and elevating your entire business in the process.
Everyone's Unique
Celebrate the unique strengths and abilities your team members bring to your organization…and to the world. When you know how others take action, you foster collaboration and trust, and create higher performing teams in the process. Where do you begin on this Connection & Community journey? Help your team understand all three parts of the mind – Cognitive (thinking), Affective (feeling) and Conative (doing) – starting with completing the Kolbe A™ Index. Using this information, employees can also complete The Compass, an exercise that also supports psychological safety and Protection from Harm.
Everyone Believes
Craft core values that are gutsy, unique and active. Involving employees in this process is critical to supporting Mattering at Work, and established values will pave the way for every decision and action your organization makes, as well as the way the world views your organization and employees. This framework calls to the forefront one of humanworks8's own core values: Champion People. The framework is focused on people, those who make everything possible in the first place.
Everyone Connects
After understanding the conative part of the mind, your team members have a strong foundation on which to further build trust. This can be even more important in a hybrid or remote environment. As you promote both Connection and Mattering, consider actions that embed gratitude into your culture, establishing company ground rules and focusing on individual well-being efforts. Another tool we like for building trust? Patrick Lencioni's Five Dysfunctions of a Team, and his follow-up, The Ideal Team Player.
Everyone Contributes
This framework relies heavily on an organization's communication infrastructure. With trust-building in-progress, basic organizational beliefs established and strategic goals identified, look to your communication practices to continue supporting Connection & Community, while also tapping into Work-Life Harmony. The Communication Guide is a way for individuals to reflect on and share some of their basic communication needs and ways of operating. Understanding elements of others' Communication Guide responses supports productive relationships, boundaries and respect for unique contributions and situations. Combine these two framework Essentials with Mattering at Work by zooming out to an organizational level to evaluate your organization's recognition practices. How are you celebrating the unique contributions of your employees?
Everyone Learns
The Opportunity for Growth Essential "rests on the needs of learning and accomplishment." Leverage a "365" approach to learning and performance by offering opportunities for mentoring, advancement and feedback daily. While this is an organization-wide view that must be adopted, The ISo Tool is an individual approach to mentorship and career development that helps employees take ownership of their growth.
Everyone Rises
Accountability and discipline are at the heart of our belief around Everyone Rises, as they help create clarity and ultimately help us rise to the challenges presented to our businesses. Mattering at Work requires a connection to the organization's overall mission and impact, something that can be accomplished through strategic planning conversations that are cascaded throughout the organization.
Everyone Thrives
The belief that Everyone Thrives is tightly connected to this well-being framework. Through tools within The Well-Being Toolkit, various Essentials are represented. Exercises such as defining personal core values, creating a personal well-being plan, sharing your well-being passions with others and both assessing your current practices and creating a plan for accomplishing your goals, all support this belief and the overall framework. How does your organization view well-being: as a program or as a way of working?
Everyone Matters
While Everyone Matters is our final belief in The 8, it may be the most critical. While Protection from Harm seems like a basic requirement, consider where your organization has an opportunity to improve basic employee physical and psychological safety. Evaluate your efforts around exposure to illness or injury, risk of death, harassment and bias. Make a regular practice of having meaningful 1-on-1 conversations that can identify and address any gaps in Protection from Harm and Mattering at Work. Consider asking You Matter Here questions or further promoting Connection & Community through Employee Resource Groups.
Your First Step Toward Well-Being
The newly-released report shares, "Workplaces can be engines of mental health and well-being." You have frameworks, tools and resources to take action in your organization. The only question, leader, is what is your first action?