Redesigning Employee Recognition
Personalizing Recognition
You might recall the days when you (or your parents) flipped through a catalog of items they could choose in honor on their "nth" anniversary. While that practice is no longer the norm, organizations were onto something – They realized that recognition had to be personalized. Not everyone wanted to be recognized in the same way.
When I worked for a former employer, I joined a committee focused on redesigning the employee recognition program. We discussed criteria, nominations, frequency and so on, until we got to the subject of the reward. Everyone was unique in their desire for recognition; A senior-level leader suggested the prize be a gift card to a fancy restaurant in town, while another person – a manager and mother – suggested a gift card to a sit-down chain restaurant instead. The gift card idea was intended to simplify, but even that got tricky. This story is only one simple example of the way recognition needs differ by individual.
Recognition Supports Workplace Culture
Whether it's recognition for years of service or recognition for a job well done, the topic of employee recognition and appreciation is an important part of workplace culture. As Shawn highlighted in a Wondering Wednesday post, Employee Appreciation Day can't just be reserved for one day (It was March 2nd this year), though that day surely is worth noting.
Gallup even includes a question on the topic in the Gallup 12 – In the last seven days, have you received recognition or praise for doing good work?
There's good reason for it. Employees who receive recognition are 2x less likely to leave.
So how do you create a personalized, frequent, retention-inspiring initiative that shows genuine appreciation to employees?
Everyone Contributes
First, organizational leadership must be onboard with prioritizing recognition within the workplace.
Recognition is a core values-based initiative that touches individuals in any role, at any level, with any tenure, in any location. At the heart of recognition is communication, belonging and a commitment to the organization's core values and purpose. A strong recognition initiative is simple, but critical to championing the people who work to elevate your company's operations and bottom line.
With values understood and leadership engaged, it's time to begin The Recognition Reboot.
The Recognition Reboot
The Recognition Reboot is a tool for anyone involved in employee recognition strategy at your organization. Consider what's working and not working well about current recognition practices. Then, get to the core by defining what an employee might need to do to be recognized for living out each of the company's core values. Use the Strategy section of the tool to cover the must-haves of a successful employee recognition initiative. Finally, wrap up by defining the backstage process that will keep the program running.
Recognition practices should fit the needs and personality of your organization, and there are countless ideas to make that happen – Check out this list or this list for inspiration, or follow the lead of Miron Construction Co. Inc., a family-owned company headquartered in Neenah, Wisconsin.
"Recognize It!" at Miron Construction Co., Inc.
The new recognition initiative at Miron is a values-based peer recognition system that works across office, field and construction site workers. With pins and hard hat stickers for each of Miron's five core values located at various locations for easy employee access, Miron's recognition is driven by a team that rallies together. Recipients can win prizes, in-the-moment values swag and thoughtful peer-to-peer written messages. Miron's program includes an online registration option so values-based stories can be recorded and celebrated. The cohesive Miron branding ties it all together.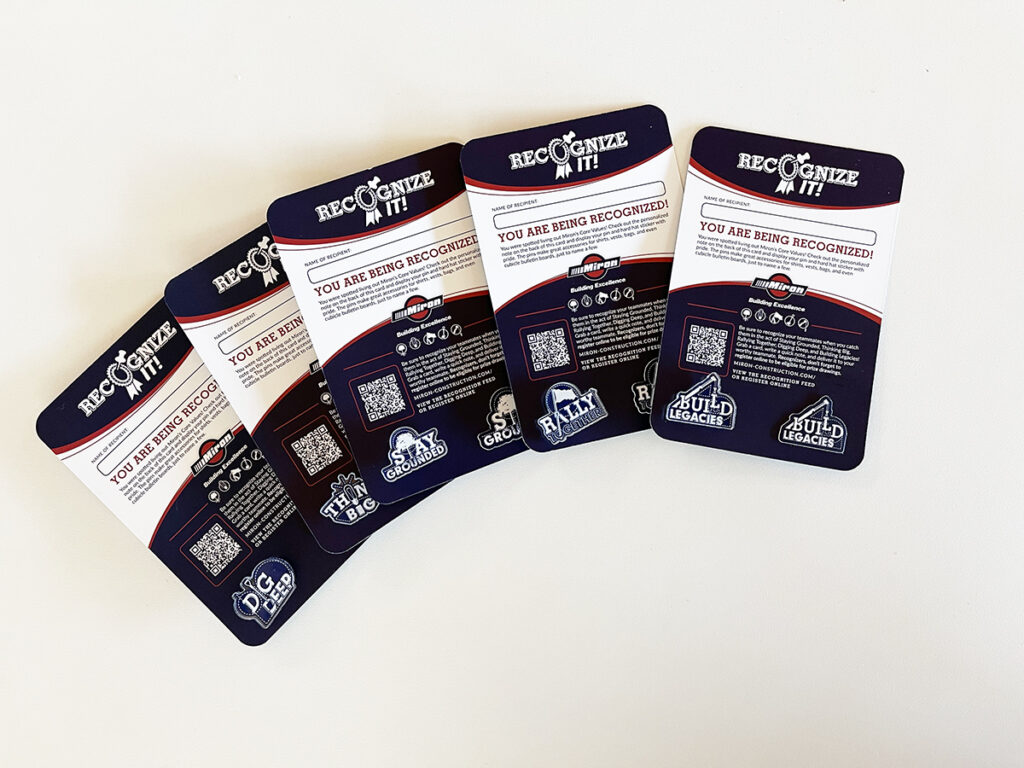 Download The Recognition Reboot Tool
Download The Recognition Reboot tool to get started on your organization's journey to meaningful recognition.