People-Centric Solutions for Start-Ups
Why are people-centric solutions such a critical business need for start-up companies? Because it all comes down to people. Your success depends on the partners you choose, the investors you find, the employees you hire and the customers you attract. This is especially true with young, growing businesses where the stakes are that much higher with every decision, every hire and every handshake. How can you build exceptional people practices from the start? Protect and elevate your bottom line by strengthening every aspect of your business that impacts people, from employees to customers. Boost your culture, streamline operations, develop leadership and improve talent practices in ways that provide meaning for each one of your stakeholders.
Defining Your Culture
One of the greatest challenges your growing business faces is retaining the spirit in which it was founded. Sometimes called the soul of a start-up, this is the initial excitement and purpose you shared with your stakeholders. It helped you form your team and develop you culture. As your business matures, it will require new systems, new structures and additional expertise. How will you keep the spirit that built your business alive as you grow to reach more people?
We believe the spirit that drives your culture can be found in your authentic core values. Your values not only drive your employee experience; they drive every decision you make, from how you care for your customers to the strategic goals you set. How would we support your organization in uncovering core values? We work alongside you – and your team – to define your gutsy, authentic and actionable core values. Then, we bring them to life in every area of your business, making your culture attractive to talent and investors alike. We help you define and sustain the spirit of your business by applying it to everything you do.
Develop Your "Way"
You need your team to be completely in sync as you operate. This means you need everyone rowing in the same direction and working toward the same goal. You need a singular method for making plans, dealing with obstacles, measuring progress and adjusting when change is needed. How can you instill one clear Way of working that is known and used by everyone on your team?
We believe that to meet your unique needs, your Way must begin with your purpose and vision. This is why we start developing your Way of operating by facilitating your strategic planning process, defining a clear vision and the strategies you'll use to reach it. Then, we give you the processes and tools your team will need to keep that vision and strategy alive in every meeting, every project, every day. Having a Way will help your employees see the meaning in their work, it will give you visibility and control over your business's performance and it will give your stakeholders confidence in your team's ability to operate with efficiency – all for the long-term.
Empower Your Talent & Your Leadership
Your business is your team. Your team is your business. The idea that attracted your employees is now being nurtured and developed by those very employees. As your business grows, so does your responsibility to your people. How can you find and retain people with the expertise you need to continue your success? And how can you provide opportunity and development in return for their commitment?
We believe there are 8 amazing qualities that unite all people, and when these qualities are recognized, people are free to make their greatest contributions. Our advice: Develop talent practices that reinforce these 8 qualities. In a young company, when every personnel decision is critical, we apply Kolbe Wisdom™ to match your people's natural strengths with the roles you need. When your people are promoted to management for the first time, we develop their leadership skills and help you build your business' leadership model. When you're developing programs and policies for the first time, we help you craft them to reinforce your values and culture.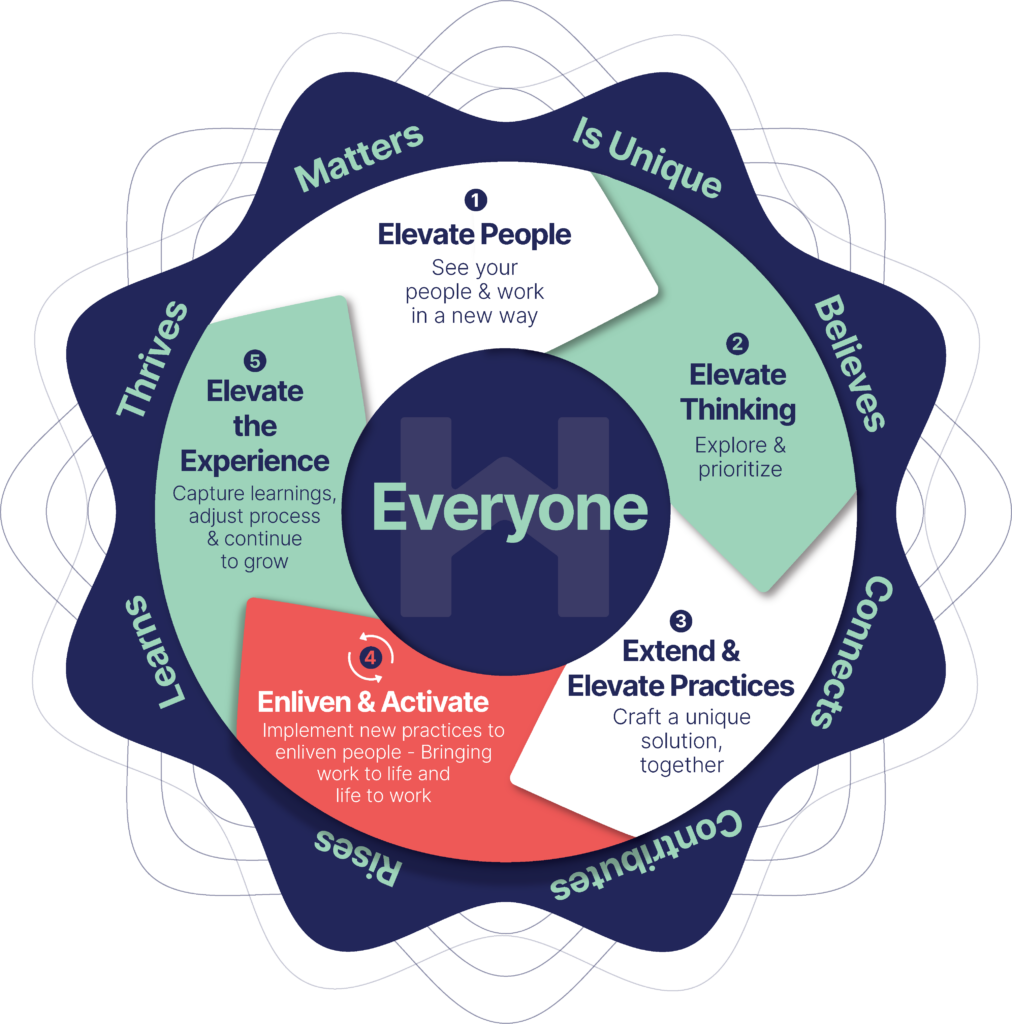 Improve Your Bottom Line
Whether you're in an early or advanced series of funding – whether you're an established start-up or you're an entrepreneurial minded business – people-centric solutions improve your bottom line because it all comes down to people. See what one start-up founder had to say:
"Thanks to our partnership with humanworks8, we were able to implement a strategic planning process that truly fulfilled the demands of our entrepreneurial-minded business. From their authentic and engaging facilitation to their deep investment in understanding the unique needs of both our people and our business, the team at humanworks8 has consistently made us stronger. Our leadership team has never felt more aligned or more prepared for growth as we do now, thanks to humanworks8.­"
– Jesse DePinto, Co-Founder & Chief Product Officer, Frontdesk