Elevating Individual Performance
Avoiding Burnout, Turnover and Quiet Quitting
McKinsey & Company reported trends tied to reshuffling, reinventing and reassessing as it relates to The Great Resignation. But what if employees didn't have to resign in order to find work that aligned with their natural strengths? What if they could do their job…their own way?
What if you had a way to prevent employee burnout, a way to stop people from leaving your organization, or worse, "quiet quitting," and do just the opposite – improve individual performance?
What if you could do it by asking just two questions?
What are the instinctive strengths of each individual employee in our organization?
How does each employee view what instinctive strengths are necessary for success in their role?
Defining Instinctive Strengths
To answer these questions, you must understand the three parts of your mind: Cognitive, Affective and Conative.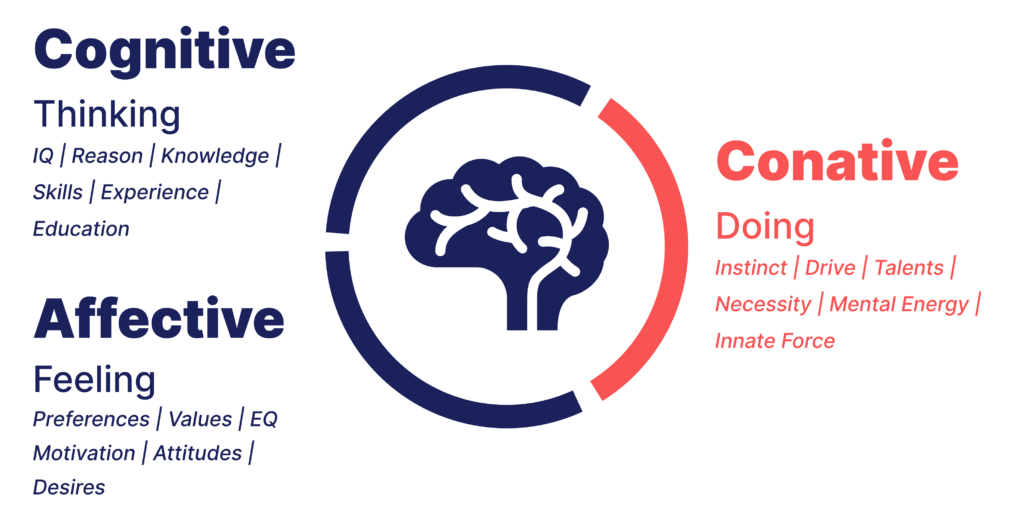 While you're likely familiar with Cognitive and Affective, you might need an introduction to Conation: the part of the mind that governs how you actually get things done when striving – your instinctive strengths. Conation drives action.
The 12 instinctive strengths are: Simplify, Explain, Strategize, Adapt, Maintain, Systematize, Stabilize, Modify, Innovate, Envision, Restore, Demonstrate.
Why Conative Abilities Matter In Your Role
Conation fuels performance. Individuals who are highly effective are free to take action on tasks and projects according to their instinctive strengths. Their brain operates efficiently and "in the zone" as they complete a well-matched task, as opposed to the "dithering" activity that occurs when an individual works against the conative grain.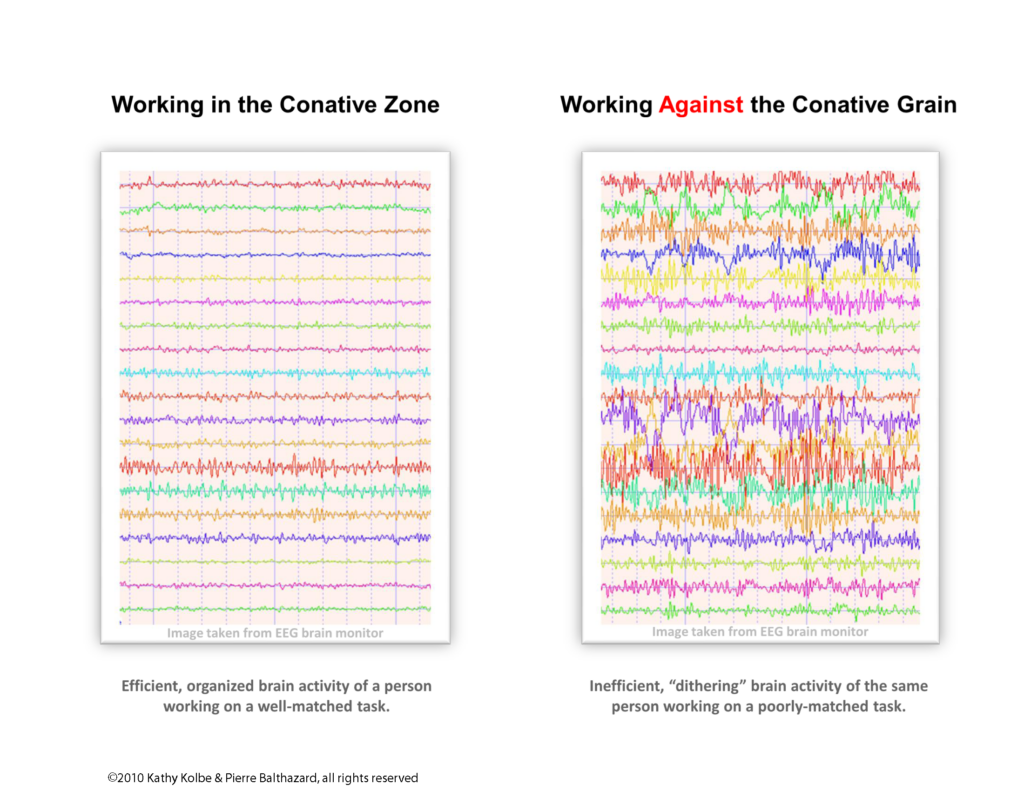 When your own natural strengths don't align with the instinctive talents required for your role, strain is present. Strain is conative stress caused by trying to act in ways misaligned with your instinctive strengths, when your belief about how a task must be completed differs from your natural way of taking action.
Strain feels like being pulled to accomplish a task one way, but being forced to complete it another. It feels like writing a sentence with your non-dominant hand – unnatural, consuming extra focus and energy, and exhausting.
If your role, for example, requires the instinctive talent to paraphrase reports and fact-check written material, but your instinctive talent is to specify to a great level of detail, you'll feel strain in doing your role. Strain doesn't mean you aren't capable of doing the role. In fact, you may have been well-trained to do your role (Cognitive), and you may enjoy the role overall, considering the relationships, environment, perks, etc. that come with it (Affective). But conative stress can ultimately lead to burnout, decreased confidence, and lower productivity if it goes unchecked.
As responsibilities change, any strain you feel will change too.
Acting on Strain
Job fit with conative strengths ties directly to employee engagement and ultimately, retention. Catching strain and doing something about it can increase productivity and employee satisfaction, while preventing time and energy wasted, burnout and quiet quitting.
Leaders often immediately notice changes in employee performance or attitude, but leaders who leverage an understanding of all three parts of the mind recognize potential cognitive, affective and conative causes. Through one of the You Matter Here questions – Have you been given the freedom to be yourself and do things your way in your role? – leaders can open the door to conversation around use of conative strengths. Instead of making assumptions that an employee is "lazy" or perhaps "just doesn't get it," leaders are given another option: The role may be misaligned with their natural strengths.
What can you as a leader do once you identify strain?
Redefine the role: Empower employees to let their instinctive strengths drive how they do the job.
Use their talents: Get employees involved in special projects or tasks that suit their natural abilities.
Collaborate: Encourage employees to draw on the energies of others.
Get real: Set realistic expectations and avoid relying on employees to act outside of their natural abilities.
Work as a team: Orchestrate your team so that members' strengths can complement others' strain.
Elevate Individual Performance in 2023
Do you have the right team in place for 2023, or do you anticipate unwanted turnover leading into the new year?
You have a way of identifying who might leave. Take a closer look at the alignment of your employee's instinctive strengths and their perception of what strengths are necessary in their role to prevent burnout, turnover and quiet quitting from plaguing your organization's culture and bottom line.
It comes down to two questions:
What are the instinctive strengths of each individual employee in our organization?
How does each employee view what instinctive strengths are necessary for success in their role?
Let us help you get the answers.
The EEG brain monitor image comes Kathy Kolbe and Kolbe Corp. Our team shares our knowledge and expertise around The Kolbe System™ as Kolbe Certified™ Consultants.